purplE k'niF
Lake Erie's Premier Surf Rock Band!
purplE k'niF on youtube.com
Band-promotion & creative-social-networking
Spring 2007 Mini Tour (with Los Straitjackets) Thursday, April 26, Columbus, Ohio @ Little Brother's
Friday 4/27, Pittsburgh, Pennsylvania @ Rex Theater
Saturday 4/28, Cleveland, Ohio @ Beachland Ballroom
Sunday 4/29, Dayton, Ohio @ Canal Street

Band-promotion
I created tags and posters for purplE k'niF's Midwest mini-tour in April, 2007. The band will be handing out canvas tags bearing more than 200 different surfboard designs. Each tag comes with a piece of soft wire enabling it to be attached to clothes, personal accessories, or objects in the environment. Each canvas surfboard comes wrapped in a folded sheet of paper--blank on the outside; on the inside the names & instrumentation of the band members are displayed and surrounded by the symbols of various surf companies and organizations. The band will also be putting up two different types of promotional posters in each venue: one promotes the canvas surfboard giveaway and another one is a larger version of the printed wrapper.
The fronts and back of a sample of canvas surfboard tags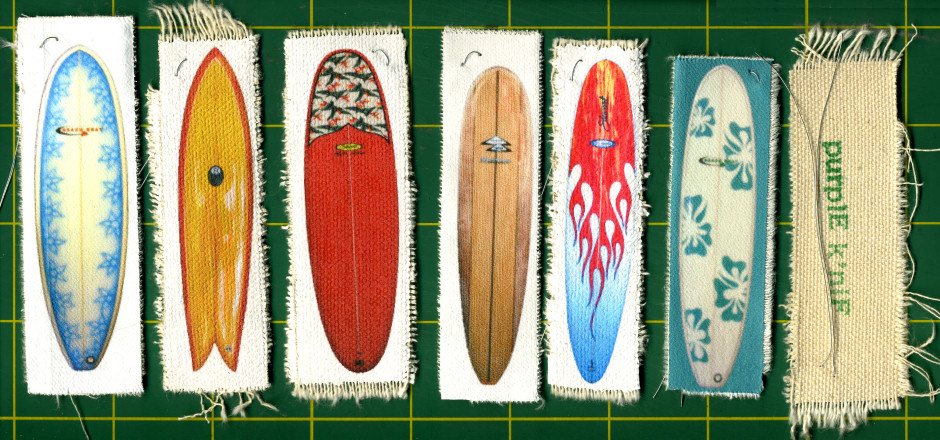 Approximate dimensions: 1+ x 3+/- inches; images created by ironing white-background t-shirt transfers on 100% cotton duck and drill cloth and then torn by hand;
approximately 6-inch piece of flexible galvanized steel wire attached to canvas image through two holes in cloth; bands name rubber stamped on back in green ink.

A folded paper wrapper containing one canvas surfboard



Piece of paper folded into nine sections and held together with a printed 1/2 x 1 3/4 inch address label.

Opened wrapper reveals surfboard tag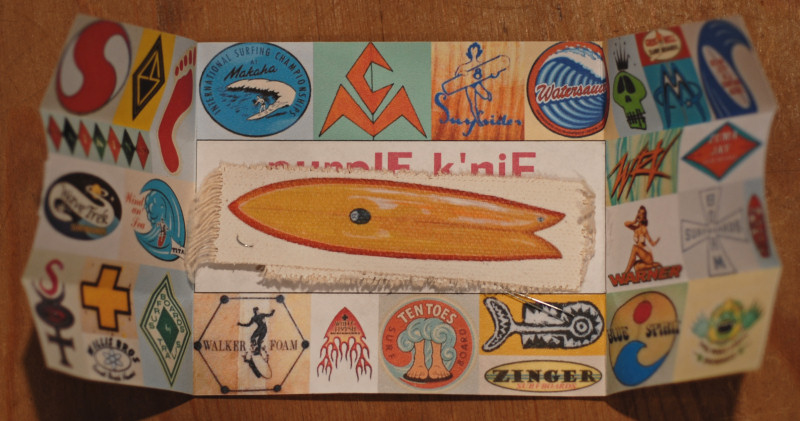 Inside of unfolded paper wrapper/wall poster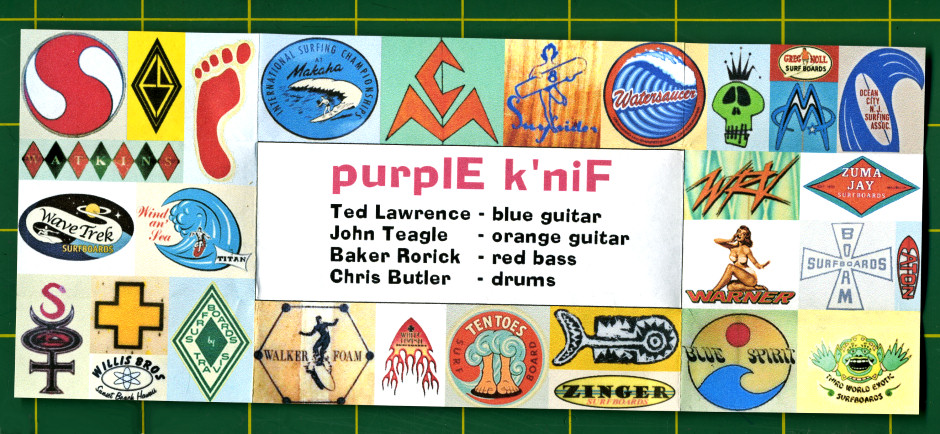 Wrapper: 8 1/2 x 3 1/2 inch piece of printed paper. Wall poster: image enlarged to 13 1/4 x 5 1/2 inches.

"Tiki-God" Poster Promoting the Band and the Canvas Surfboard Giveaway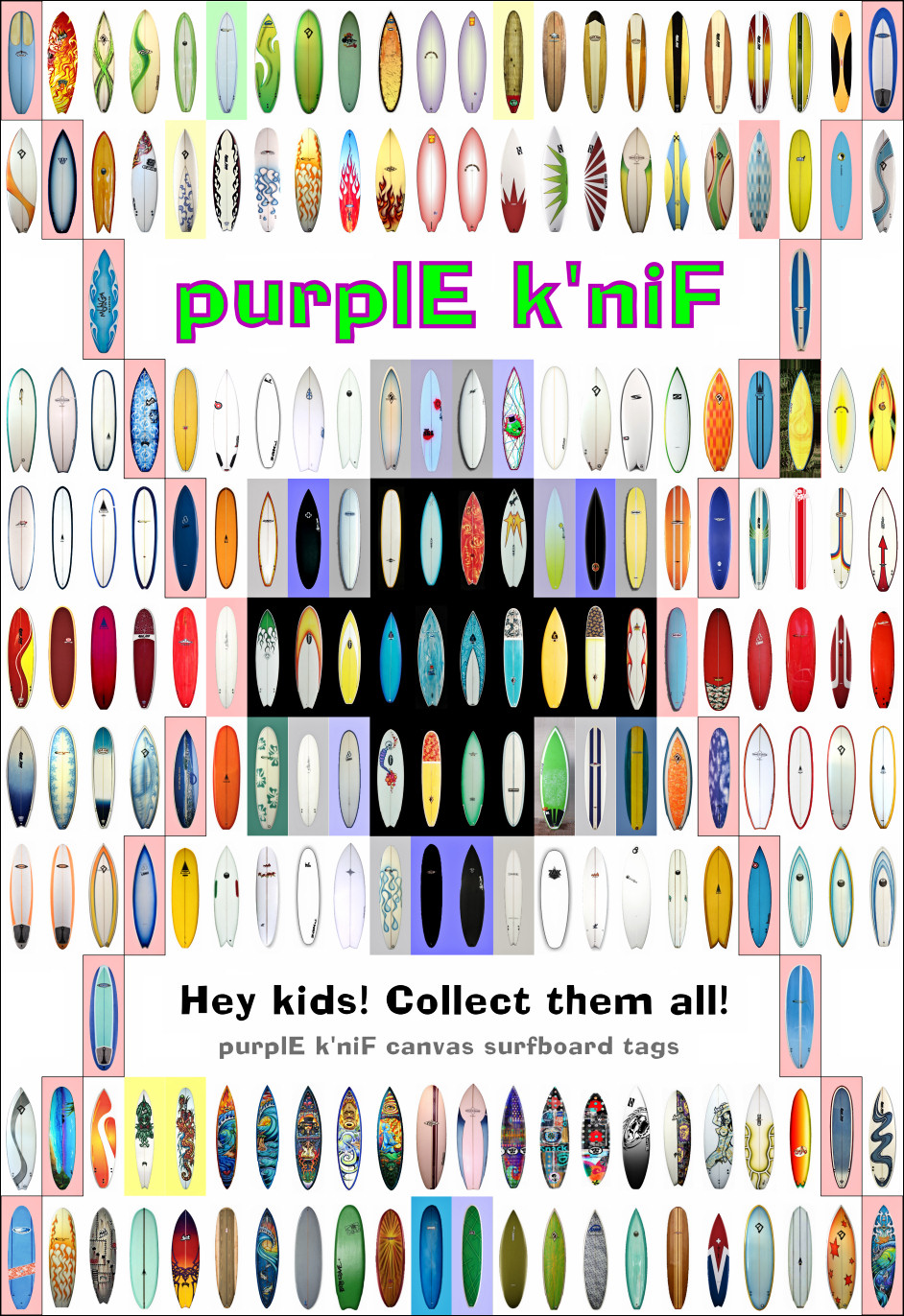 13 x 19 inch printed poster paper showing designs of the 202 canvas surfboards.

Creative-social-networking Project
As the 4 band members interact with the public in 4 different venues in four different cities, they are handing out the canvas surfboards as a creative challenge--take the purplE k'niF creative challenge: do something cool with this. The band members are going to be on the look out for the various uses to which these surfboards are put and will be reporting what they can observe back here later.
Each band member received a cigar box with 50 canvas surfboard packets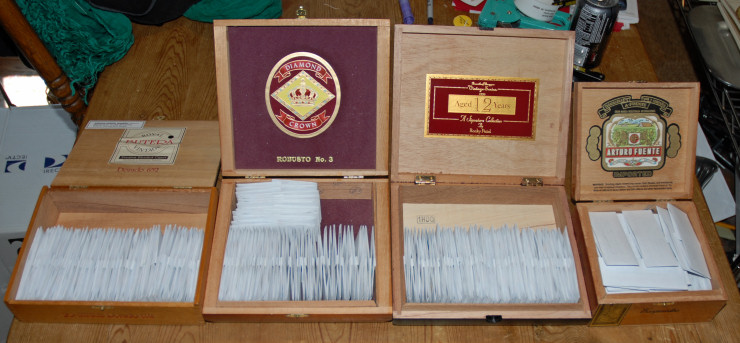 | | |
| --- | --- |
| Instructions for the band | Notepads and pens for the band |
Report #1 - from Baker Rorick
We handed 'em out from stage or before and after sets to random individuals and most people seemed slightly baffled. As we didn't get to see what folks did with them after they got home and tried to figure out what they might be, don't have a lot of stories for you. First night, in Columbus, ran into a couple of fellow smokers outside. The guy hung his canvas board from his belt loop while his girlfriend claimed she would cut up all the surfboard company logos and paste them to the front of her guitar. Did see one person somewhere wearing as ear ring. One of the staff from club in Dayton asked what she was supposed to do; I said whatever you want: button, badge, Christmas ornament, rear-view mirror dingle ball, hang from pierced ear or nipple. When she said, "I do have pierced nipples" I gave her a second one, for balance.
Twang!
information about
purplE k'niF
© 2007 Allen Bukoff