My visit with Carolee Schneemann
after her lecture at the Art Gallery of Windsor
Windsor, Canada
April 5, 2006
by
Allen Bukoff

Carolee Schneemann reading her list of "What is important" at her lecture tonight.
Through Emily Harvey, Dick Higgins, and others I have been fortunate enough to meet and get some exposure to some of the original founding members of Fluxus and some of the post-World War II American art avant-garde. Perhaps the most delightful, fun, and playful person whom I have met from this group is Carolee Schneemann. Carolee Schneemann was a young painter living in New York who got swept up into the Happening Fluxus Warhol Judson Church art scene of the early 60s and who went on to create some of the most powerful, beautiful and radical performance events of that era. Radical is actually an understatement. One of her performances involved hanging naked by a rope from a ceiling while drawing on gallery walls with crayons; another involved a pile of people writhing around on a stage covered with butchered chickens, fish, sausages, and paint; another performance involved reading the broken text of a scroll of paper as she slowly pulled the scroll out of her vagina while standing upright on stage. When you see how beautifully Carolee orchestrated and presented these events, you realize how profound and serious and amazing her art is--because she manages to completely overwhelm and dwarf the natural shock reaction to these extreme activities. Carolee is a brilliant and powerful woman who has been steadfast in charting her own course. Although widely respected in the art world, you get the feeling that no one has ever quite figured out how to fully acknowledge or credit her. Not surprisingly, Carolee Schneemann has been even less acknowledged or credited outside the world of art by a culture whose sensibitilities and values her work has challenged and confronted for 40 years. She was and is too radical ...even for the sixties, even for the art world. To have the chance to listen to and talk to someone like this is a huge treat.
I first met Carolee Schneemann at a Fluxus dinner and rehearsal at Emily Harvey Gallery in 1998 and have been lucky enough to spend some time with her in and around the Emily Harvey Gallery on several other occasions over several years after that. Recently, I received an email from the Art Gallery of Windsor promoting a lecture by Carolee Schneemann. I got excited about the chance to hear Carolee formally talk about her work and the chance to make contact again. I hadn't seen her in more than five years. I headed off to the gallery early this evening with a bag full of things I wanted to give Carolee: a couple of my photos of Emily Harvey (who died several years ago) and Jeff Perkins (two friends of hers); a photo of Carolee and me sitting on a windowsill at the Emily Harvey Gallery; a recently published and signed copy of the catalog for KLONDIKE: International Fluxus Group Show that Chris Butler and I organized at California Institute of the Arts in 1999 (a little self-promotion); and about a dozen laminated badges that I created to celebrate Carolee Schneemann's visit.
Carolee's lecture tonight was great! It's always a treat to have someone who is really smart show her work and then explain what's behind it. I approached her after the lecture, and we managed to chat a little between her finishing and packing up, talking to others, and getting ready to leave for the next activity. I was pleased that she remembered me (as the "Fluxus guy"). She graciously accepted my little gifts. She immediately put on one of the badges I had made for her, and she kindly posed with me for a picture.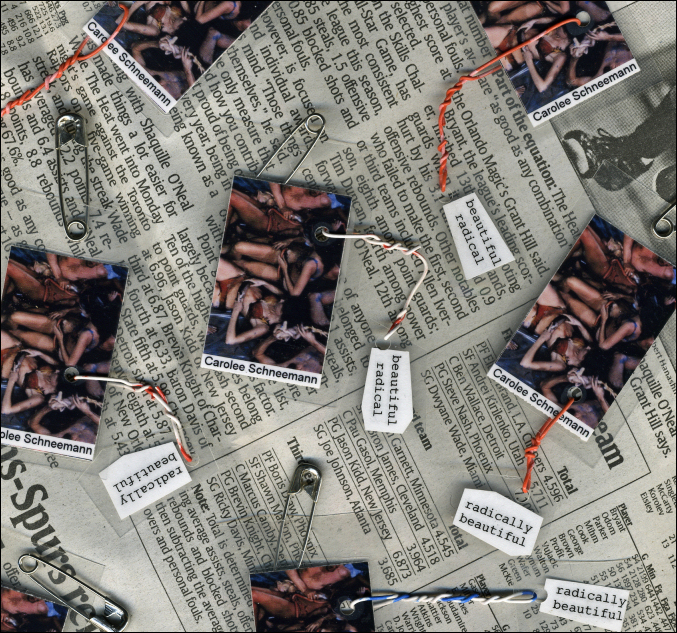 Before I left for the lecture, I created some laminated badges to give to Carolee to celebrate her visit to the Art Gallery of Windsor. The main part of the badge is a small photo of her famous, radical 1964 performance, Meat Joy, taken from the book, Carolee Schneemann: Up To And Including Her Limits. Her name is printed below the photo. Attached by thin telephone wire to the main laminated rectangle is another small laminated piece of paper that says "radically beautiful" on one side and "beautiful radical" on the other. I think Carolee Schneemann has created some radically beautiful events, and I think she is a beautiful "radical." The entire badge hangs from a safety pin.
You can find some of my other badges and buttons here.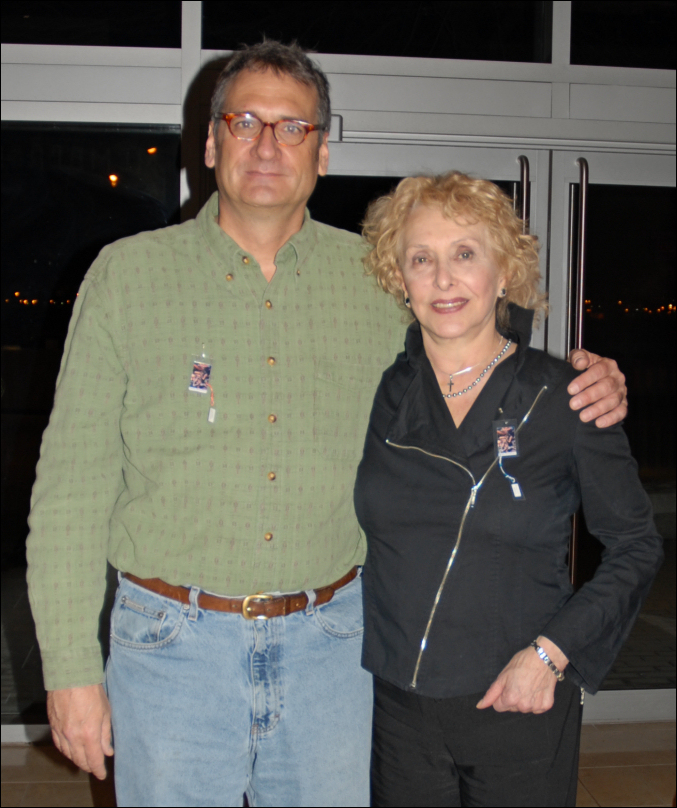 A photo of me and Carolee Schneemann (taken by Iain Baxter) at the Art Gallery of Windsor, April 5, 2006.
---
© 2006 Allen Bukoff & FLUXUS Midwest